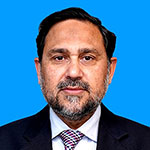 Mr. Afzal Latif
Federal Secretary
Ministry of Industries & Production
---
MA (Governance & Development), University of Sussex, UK
BSc (Eng) (Polymer Science & Engineering), Queen Mary
College, University of London, UK

Mr. Afzal Latif is a career civil servant who joined the Government of Pakistan in 1990, and worked for the provincial governments of N.W.F.P./Khyber Pakhtunkhwa and Balochistan as well as the Government of Pakistan. Besides field experience, has served in the provincial departments of Education, and Planning and Development, and the Establishment Division of the federal government. Has worked closely with donors such as the International Fund for Agricultural Development, the Asian Development Bank, and the Japan Bank for International Cooperation.
His areas of interest include Institutional Development and Civil Service Reform.
Some of his selected publications are:
Governance (Cyan, Latif). Background Paper for the Northern Area Strategy for Sustainable Development, 2003, IUCN Pakistan.
Northern Areas Strategy for Sustainable Development, 2003. compiled by Tariq Z. Khan, Musharraf R. Cyan, Irfan Tariq and Afzal Latif, finalized and edited by Scott Perkin, IUCN Pakistan.
A Whole New Playing Field or a Whole New Game?, 2005. Geoghegan, Tighe and Latif, Afzal, Sic, et al. Institute of Development Studies Student Bulletin, November 2005, Volume 1 Issue 2.
A-Block, Pak Secretariat, Islamabad, Pakistan
Phone: + (92-51)-9211709, + (92-51)-9210192
Fax: + (92-51) 9207748