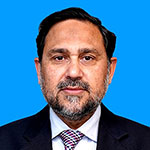 Mr. Asad Rehman Gilani
---
Additional Secretary (Incharge)
Ministry of Industries & Production (MoI&P)
Public Policy Practitioner with 27 years working for the Government of Pakistan, Mr. Asad Rehman Gilani is an officer of the Pakistan Administrative Service. He joined the service in 1996 and has experience of multiple sectors and jurisdictions. He has served in provincial governments of Baluchistan, Punjab and in the Federal Government. He has been involved in running of the Transport, Environment, Housing, Food and Agriculture Departments in Punjab. He remained the Secretary of the Home, Law, Prosecution the Local Government Department in Baluchistan. He remained the Deputy Commissioner of Sheikhupura District and Commissioner of Zhob Division. His longest stint of 4 years was at the Energy Department in Punjab where he led the initiative to add about 10,000 MW to the national grid to rid the country of electricity outages. At the Agriculture department one of the projects that he championed was curbing the practice of crop residue burning through mechanization of residue removal.
Mr. Asad Gilani has degrees in Public Administration from the Harvard Kennedy School (Harvard University) and Medicine from the King Edward Medical University in Lahore. He completed an Edward S. Mason Fellowship in Public Policy from the Harvard University in 2009. He also participated in a summer course of International Political Economy at London School of Economics. He also has taken various trainings and courses in the USA and Pakistan.
He writes on the issues of current affairs and policy designs in the public sector. He also delivers lectures on Administrative and Governance issues in various public and private sector institutions.
A-Block, Pak Secretariat, Islamabad, Pakistan
Phone: + (92-51)-9211709, + (92-51)-9210192
Fax: + (92-51) 9207748